---
CITY OF HARKER HEIGHTS
MEMORIAL CEREMONY & REMEMBRANCE WALK 2022
---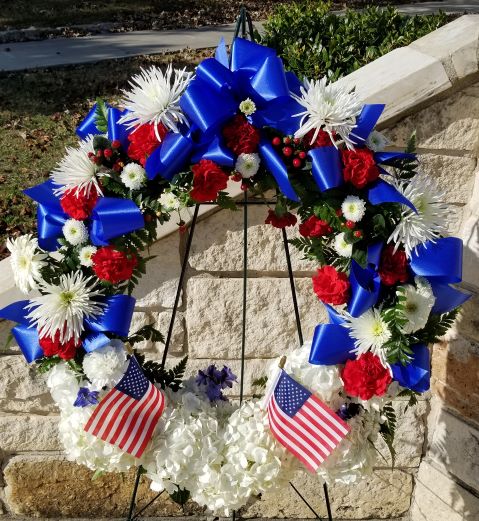 Each year the City and the Harker Heights Veterans Council host a Memorial and Veterans Ceremony. Citizens were encouraged to join in the remembrance for those who gave their lives in defending our nation.
The Harker Heights Veterans Council consists of organization representatives from the American Legion Post 573, MOPH, MOAA, DAV Ch. 29, Area Veterans Advisory Committee, Veterans Advisor, Department of Texas Korean War Veterans Association, Korean War and Korea Service Veterans 222, TREA Centex Ch. 88, VFW Post 3892, Vietnam Veterans of America Ch. 1000, 40/8 Bell County, WAC Veterans' Association Ch. 94, Bring Everyone in the Zone, Inc., Military Veterans Peer Network, Friends of the Central Texas State Veterans Cemetery & Wreath Riders, Star Group-Veterans Helping Veterans, Killeen Heights Vet Center, and Harker Heights Chamber of Commerce; as well as local government and military officials.
During Memorial Day weekend, the City and Veterans Council extend an invitation to the public to attend the Memorial Ceremony & Remembrance Walk 2022 on Saturday, May 28, 2022. The ceremony will take place at 9:00 am at Carl Levin Park Amphitheater, 400 Miller' Crossing and after the ceremony will be the Remembrance Walk around the park. On Monday, May 30, citizens can observe the National Moment of Remembrance at 3:00 pm by pausing wherever they are for a duration of one minute to remember those who have died in military service. Citizens are encouraged to display a U.S. flag at their homes during the Memorial Day weekend.
---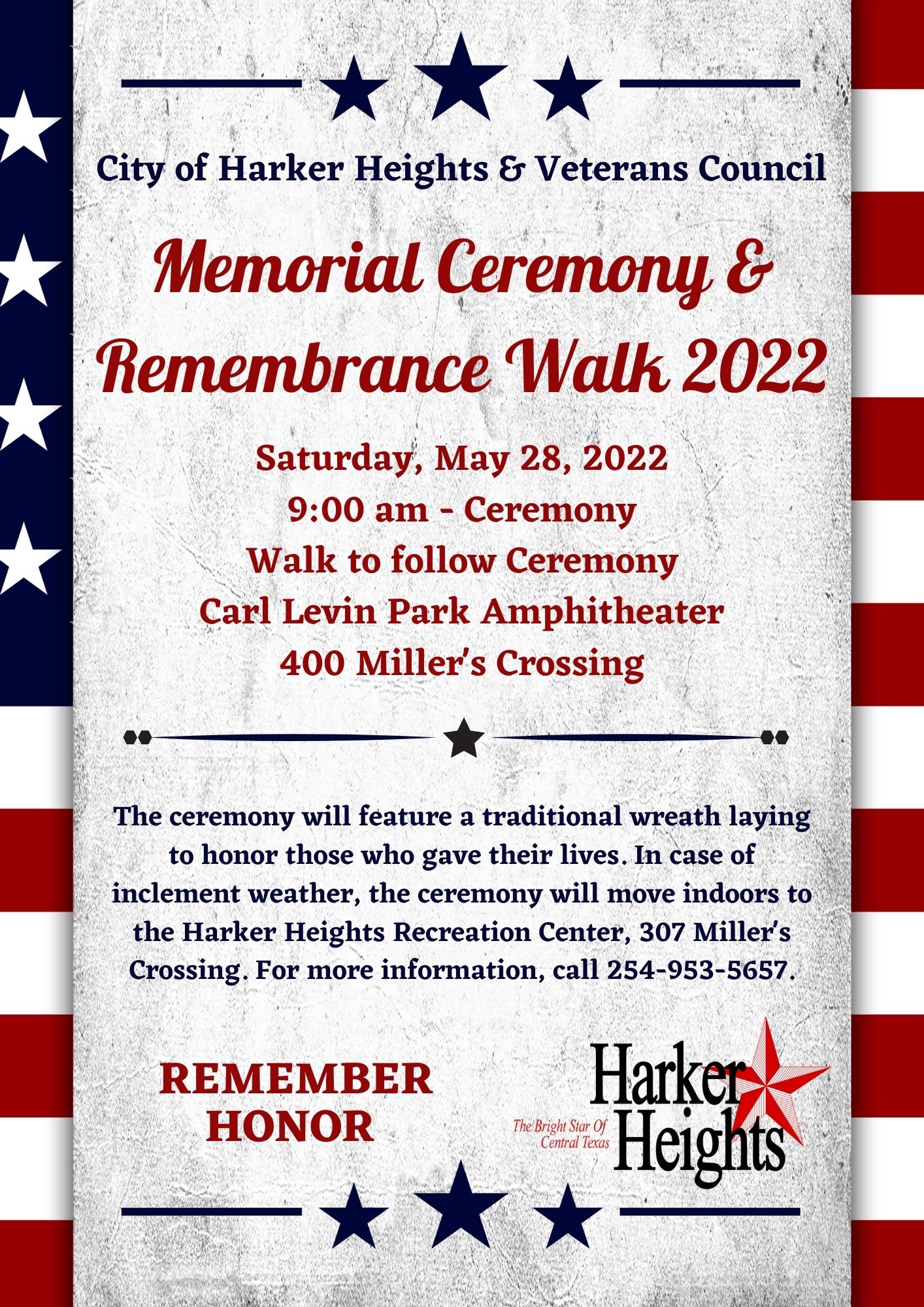 ---
---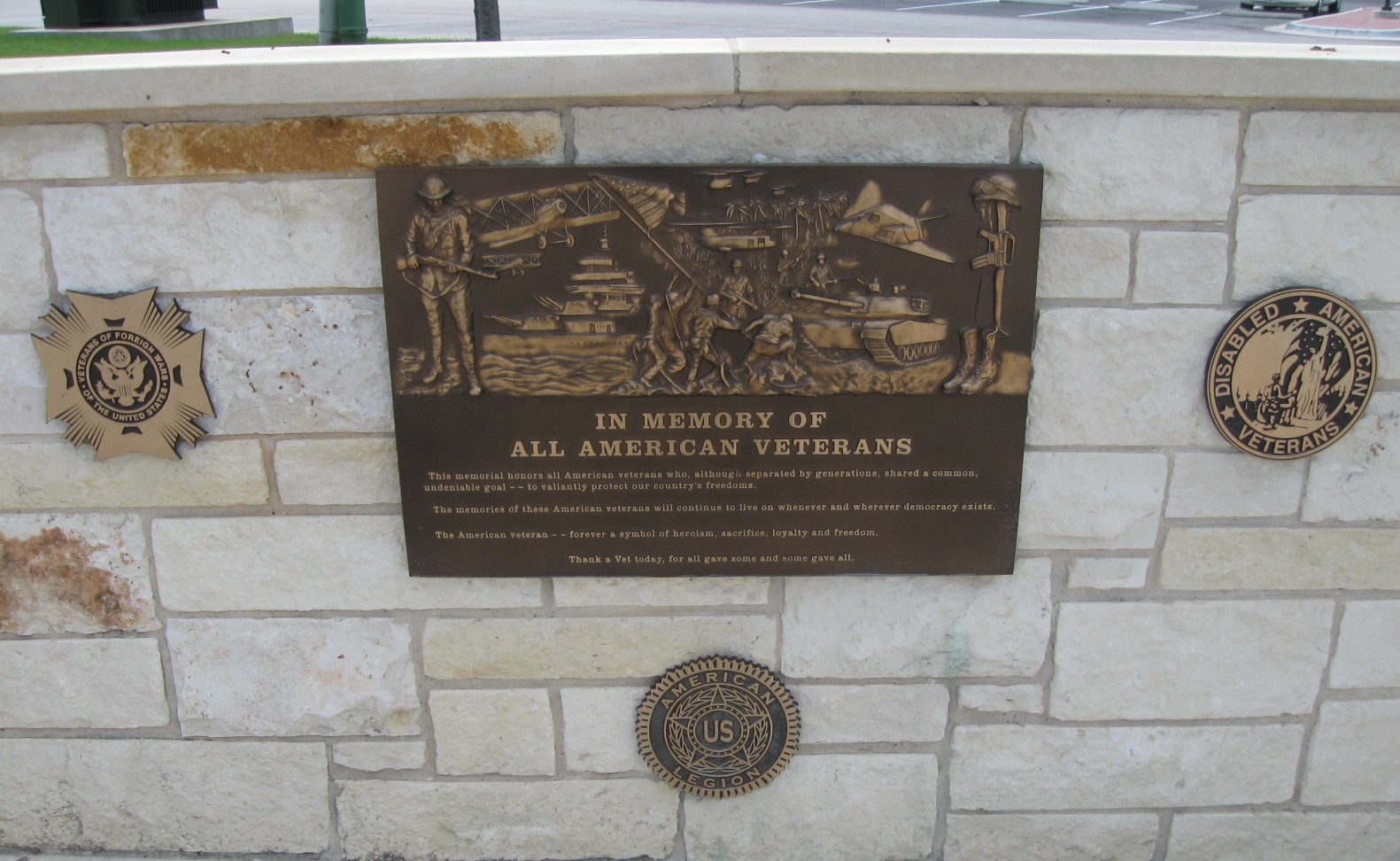 Inscription on the Harker Heights Veterans' Monument:
IN MEMORY OF ALL AMERICAN VETERANS
This memorial honors all American veterans who, although separated by generations, shared a common, undeniable goal - - to valiantly protect our country's freedoms.
The memories of these American veterans will continue to live on whenever and wherever democracy exists.
The American veteran - - forever a symbol of heroism, sacrifice, loyalty and freedom.
Thank a Vet today, for all gave some and some gave all.
---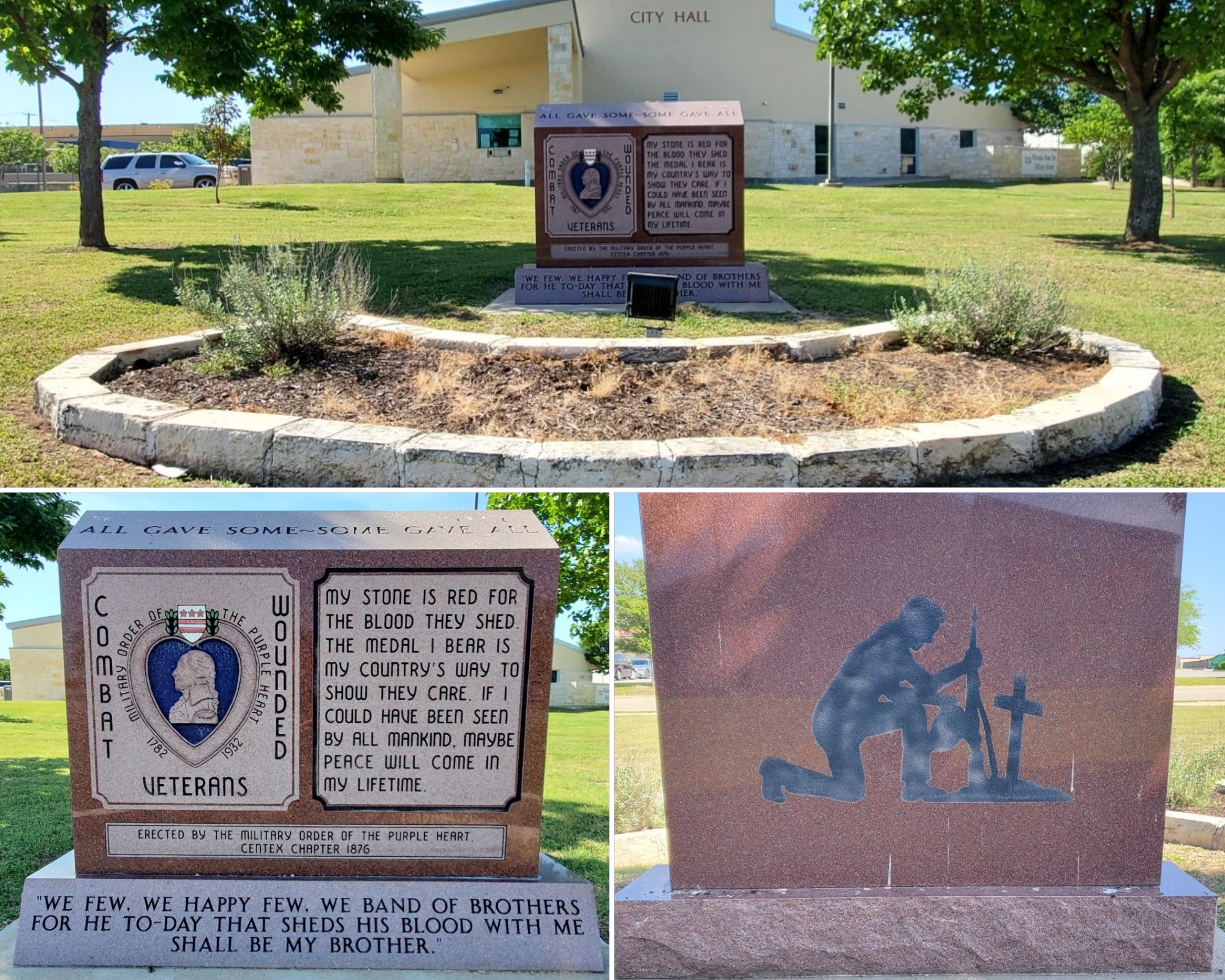 Inscription on the Harker Heights Purple Heart Monument:
ALL GAVE SOME - SOME GAVE ALL
MY STONE IS RED FOR THE BLOOD THEY SHED. THE MEDAL I BEAR IS MY COUNTRY'S WAY TO SHOW THEY CARE. IF I COULD HAVE BEEN SEEN BY ALL MANKIND. MAYBEE PEACE WILL COME IN MY LIFETIME.
"WE FEW, WE HAPPY FEW, WE BAND OF BROTHERS FOR HE TO-DAY THAT SHEDS HIS BLOOD WITH ME SHALL BE MY BROTHER."
ERECTED BY THE MILITARY ORDER OF THE PURPLE HEART CENTEX CHAPTER 1876
---