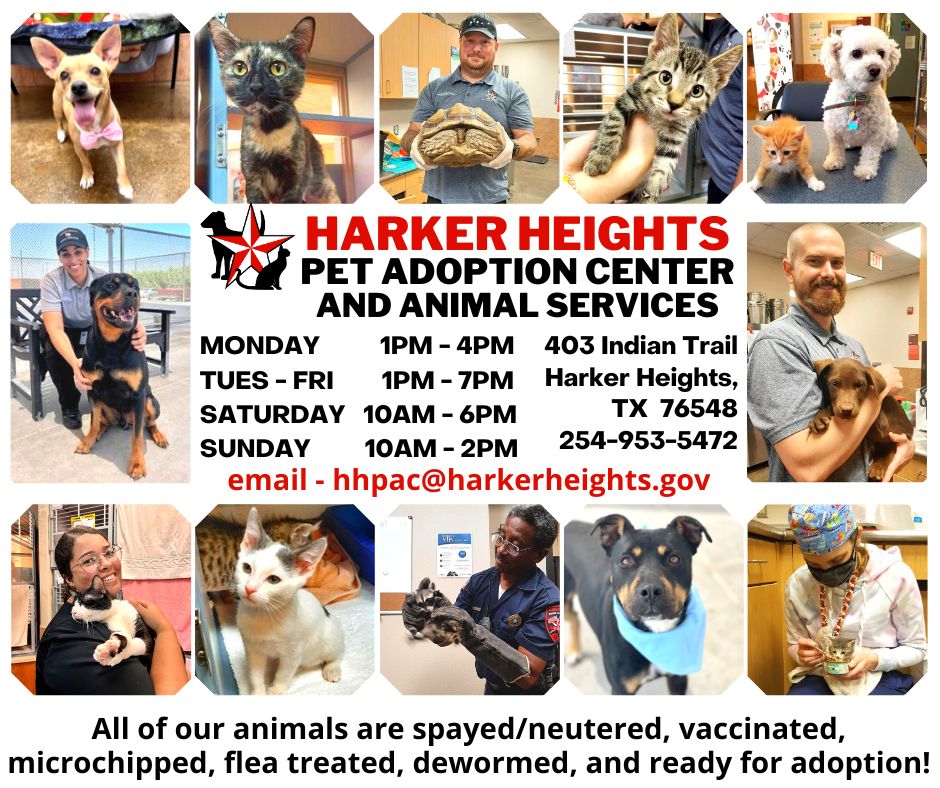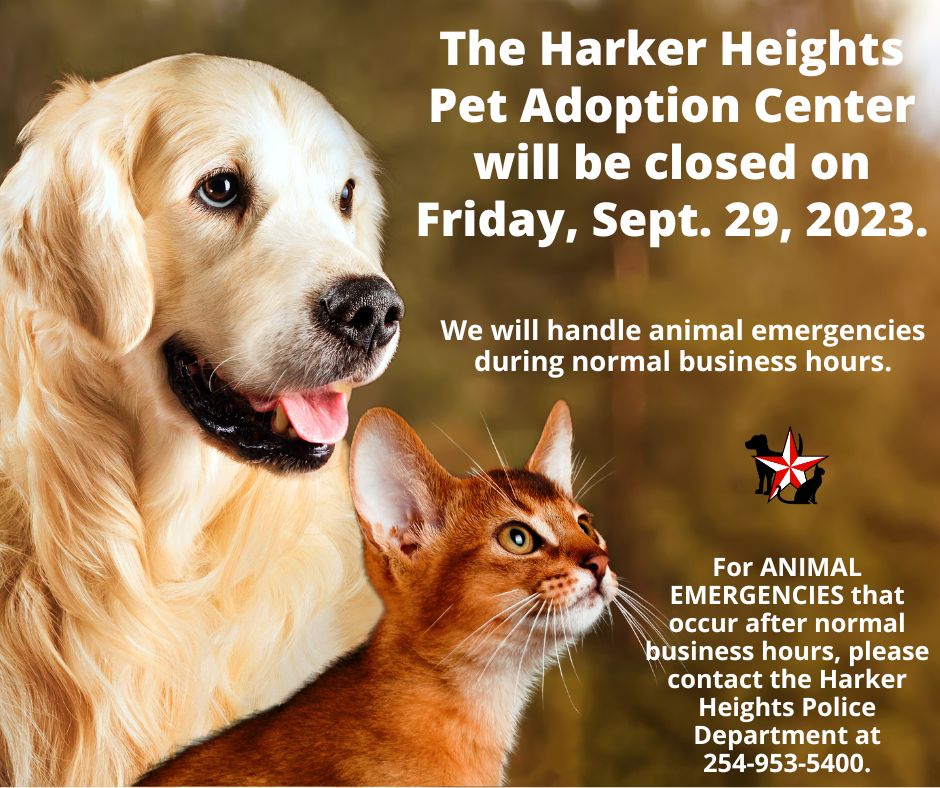 For ANIMAL EMERGENCIES that occur after normal business hours and on holidays, please contact the Harker Heights Police Department at 254-953-5400. For all other after-hour inquires, please leave a message at the Harker Heights Pet Adoption Center (254-953-5472).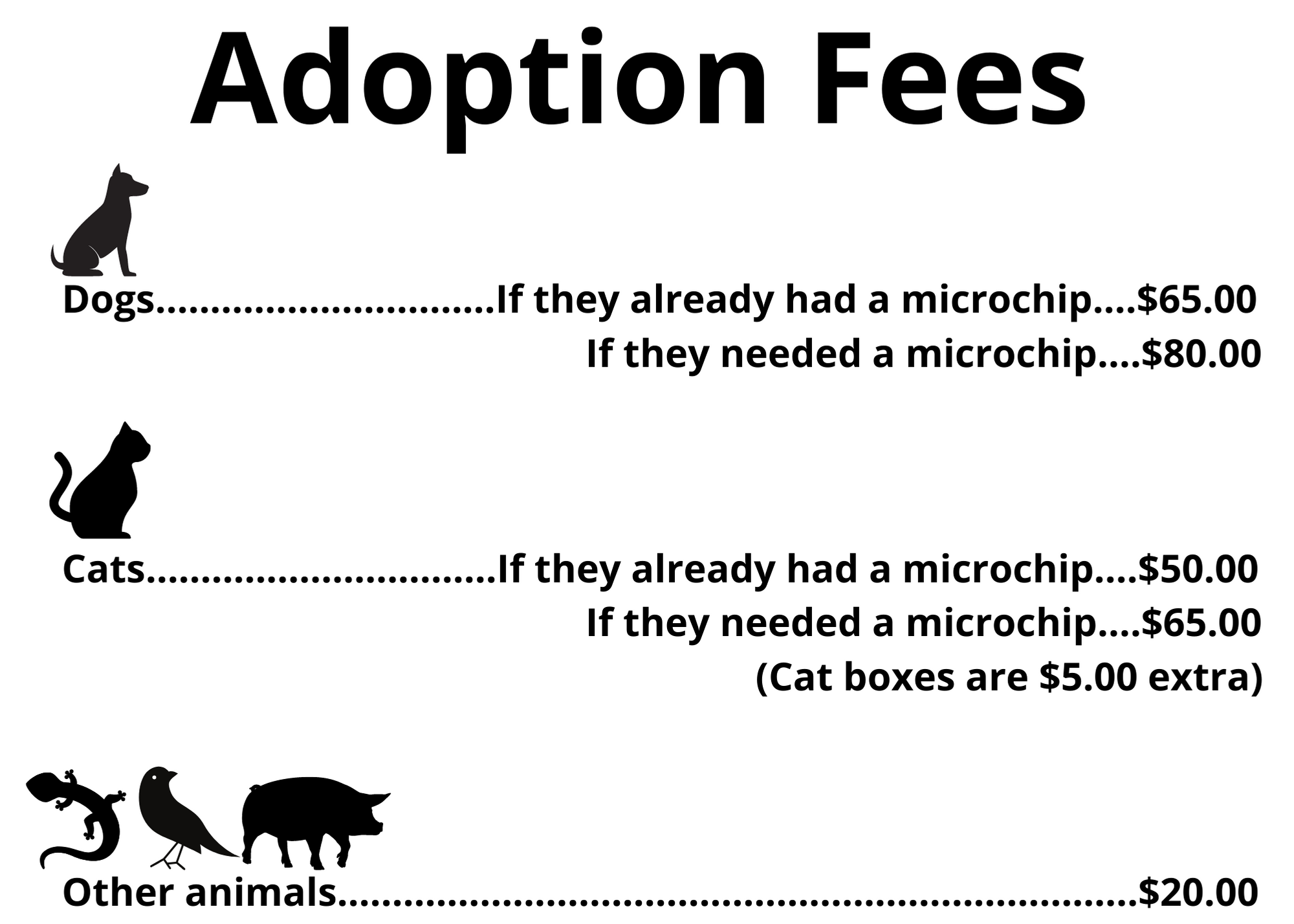 All of our shelter cats and dogs are spayed or neutered prior to adoption, have received age appropriate vaccines, are microchipped, and given a flea prevention & dewormer.
There is never a shortage of pets in need of loving, responsible homes. Dogs, puppies, cats, kittens, and many other types of animals, are waiting for their new families in our shelter, and in shelters across the country. It is very important that you consider what type of pet you are wanting to adopt, and to research not only species, but breed, energy level, size, maintenance, and cost of ownership. A pet is a lifetime commitment and is not a decision to be made lightly!
After adoption, it is important that you take your new pet to your personal veterinarian for follow up care, booster vaccines, and a general health check-up. The City of Harker Heights cannot guarantee health, nature, or disposition of the animals, and it is the responsibility of the new owner to ensure their new pet is cared for.
Most shelter pets will require an adjustment period once they are adopted and in their new home. That time frame can vary from a few days, to a few weeks or longer, depending on the individual pet. Please allow time, patience, and structure to your newly adopted pet. If for any reason, you feel that your adopted pet is not working out, you have the option to return the animal within 3 days of adoption, minus any refunds.
Please call the shelter if you have any questions in regards to returning an adopted animal. If you are having trouble with specific issues with your new pet, but you are determined to work it out, consulting with a professional pet trainer is always a good idea.
If you are missing a pet, please call the shelter at 254-953-5472 and check the Lost Dogs or Lost Cats option on our website for the most current listing of our stray animals. We also strongly suggest you come and search the shelter in person, as well as surrounding city shelters, and provide a photo of your missing pet with contact information.
Stray animals are held 72 hours before becoming legally owned by the City, and can then be placed up for adoption, sent to a rescue organization, or humanely euthanized.
If your pet is impounded at the shelter, there are fees associated with reclaiming your pet, to include a $15/per night overnight fee, and an additional $15 for a microchip if needed.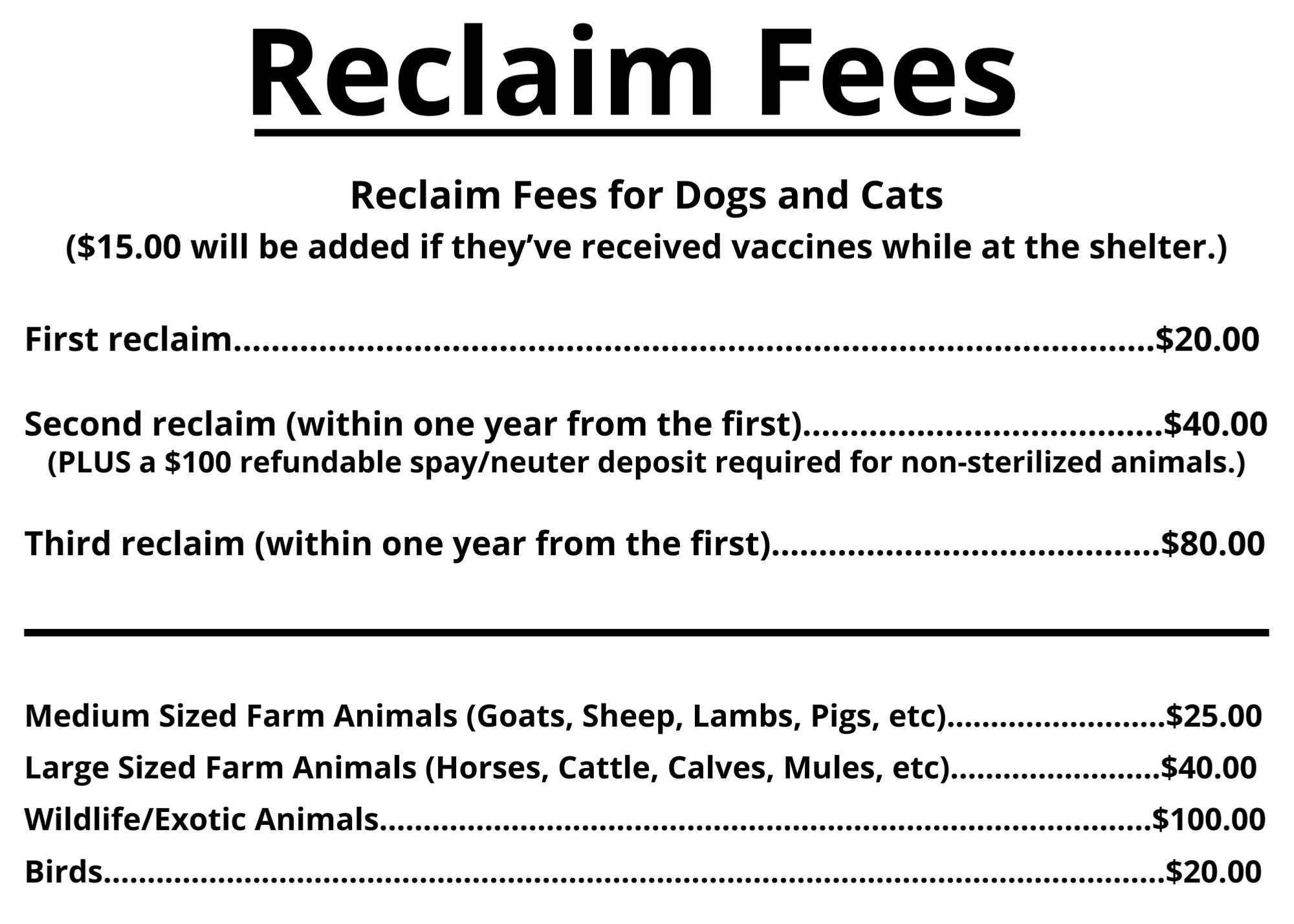 If you have found a pet in the City of Harker Heights, please call the shelter at 254-953-5472.
Please note that our shelter can only accept stray animals found within our jurisdiction.
All stray animals should be scanned for a microchip, which can be done at our shelter or any veterinary clinic or animal shelter.
Social media is also a great tool for reuniting lost pets, so posting to local lost and found pages, neighborhood pages and apps often leads to quick reunions of lost pets and their families.
The Pet Adoption Center only accepts owner surrenders from residents of Harker Heights.
If you are needing to surrender your pet, please call the shelter at 254-953-5472 to be placed on our owner surrender waiting list.
We will call you when a spot becomes available for your pet. At that time, we will remind you to bring in a photo ID, proof of residency, and your pet's medical records (including the Rabies Vaccination Certificate). There is also an owner surrender fee of $25 per pet.
It is very important to have your dog or cat spayed/neutered for multiple reasons: reducing the overpopulation of stray animals, reducing health complications in intact animals, preventing unwanted puppies and kittens, reducing aggression, and reducing the desire to escape and run away.
Please consult with your veterinarian about the best age to have your dog or cat spayed/neutered.
The Pet Adoption Center assists with pet adoptions, animal rescues, animal cruelty concerns, barking dog complaints, animal bite cases, and more. To report any issues involving animals, please call us at 254-953-5472. In case of emergency, please dial 911.
The Harker Heights Pet Adoption Center offers microchipping services to everyone for $15 per animal. Rabies certificates are needed for all animals over 12 weeks old. A chip greatly increases the likelihood that your pet will be returned to you if they are lost, and can also be proof of ownership.
Wildlife is a natural occurrence within the city limits and they often show up in your backyard, under your car, in your outside trash, etc. Animal Services does not pick up wild animals unless they are inside your home or vehicle, are injured or ill, deceased, or have bitten or scratched a person or animal.
Wet and dry food (dog/puppy & cat/kitten); kitten formula and nursing bottles; dog and cat treats; blankets, towels, and sheets; Dawn dish soap, Bleach, and disinfecting wipes; laundry soap and dryer sheets, collars, leashes, and harnesses; puppy potty training pads; dog and cat toys; trash bags (all sizes) and paper towels; baby wipes and pet shampoo; old newspapers; etc.
While we are a municipal animal shelter, we also have a clinic and resources to treat some types of injuries and illnesses. However, some patients need to go to a full service veterinary clinic for diagnostic x-rays or surgery. Animals like these, that come in as strays, and require a longer stay than normal, additional diagnostics, surgeries and treatments end up costing quite a bit more than the average stray cat or dog, and this is where we rely on your monetary donations.
We are honored to serve such a wonderful community and cannot thank you enough! Your support allows us to go above and beyond for our animals, and we truly appreciate everything you do to help us succeed in our mission.