Brush and Bulky Item Drop Site
---
RESIDENTIAL CUSTOMERSWaste Management does not pick up bulk piles of brush or bulky items (i.e. refrigerators or sofas) placed at the curb.
For excessive brush or bulky items, the City has provided a drop site at 1761 FM 2410 (located on the north side of FM 2410 between Indian Trail and Warrior's Path). The size of a load is limited to 4 cubic yards and the number of loads to 2 per household per day. Overloaded pickups and trailers will not be accepted. Dump trucks are prohibited.
The hours are:
Tuesdays 8AM to 5PM
Thursdays 8AM to 5PM
Fridays 8AM to 5PM
Saturdays 8AM to 5PM

On days of operation, the gate to the drop site will close at 4:50 p.m. The last load received into the drop site on those days will be at 4:40 p.m.


This drop site will be free of cost to the citizens of Harker Heights. Commercial operations including tree trimming companies and property management companies are prohibited. To utilize the drop site, simply bring a current water bill and drivers license with you to the site. Residents may contact Waste Management at (800) 800-5804 to arrange for a roll off dumpster at an additional charge or may contract with a vendor of their choice to haul excessive brush or bulky items away.
Some bulky items, such as refrigerators and freezers, may require special treatment prior to being disposed of at the City's drop site. Call 953-5600 for more information on what items may require special handling and who you can contact to assist you.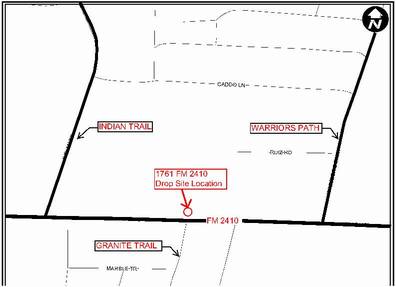 Location of the City's Brush/Bulky Item Drop Site & Recycling Center

---

COMMERCIAL CUSTOMERSCommercial accounts will have a monthly fuel cost adjustment.
This adjustment is based on the national average price of diesel fuel as reported weekly by the Energy Information Administration of the U.S. Department of Energy in its Weekly Retail On-Highway Diesel Prices Index for the Gulf Coast region, a link to which is provided on the City's website at
www.harkerheights.gov
.
---

These changes are necessary due to the growth of the City and the increasing cost of fuel. The City Council has been in negotiations with Waste Management in an effort to get the most value for the citizens and businesses of Harker Heights. The above changes reflect the renegotiated contract with Waste Management.

The information discussed above, as well as a history of the City's contract with Waste Management are presented on our website which is found at www.harkerheights.gov. If you have any questions about trash or brush service within the City of Harker Heights, please contact the City at (254) 953-5600.