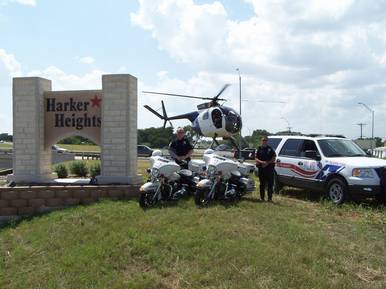 The Traffic Unit serves the citizens of Harker Heights in all phases of traffic enforcement, collision investigation, public education and collision prevention.

Citizen Complaints

All citizen complaints resulting from a traffic problem are thoroughly researched and analyzed and, if needed, directed enforcement occurs to resolve the problem.

Traffic Accidents

Traffic accidents are investigated primarily by the unit, however the patrol division also investigates accidents. All major accidents to include fatalities are investigated by the traffic unit. All full time members of the unit are trained in Accident Reconstruction.

Traffic Surveys

The traffic unit has a portable radar/survey trailer for use in areas where traffic complaints have been noted and to assist with city planning.

Escorts

The traffic unit is responsible for coordinating traffic control and escort duties for parades, funerals, etc. as deemed necessary by the Patrol Division Commander.

Traffic Enforcement

This duty is primarily driven by citizen complaints or accident data to resolve issues associated with dangerous environments, and accidents. The unit also concentrates enforcement near schools and problem areas as necessary.

Other Duties

As full time members of the Harker Heights Police Department officers will assist the patrol division when necessary.